Azmat Mohammed
Director General
Multi Award Winning Founder of The British Institute of Recruiters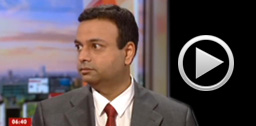 Azmat Mohammed is the BIOR's Founder and holds the position of Director General at the BIOR. Understanding people management from the CEO's perspective, Azmat oversaw the internal recruitment and HR processes of the ID group in the UK and USA for 15 years, as well as studying various aspects of HR management at undergraduate level. He is an innovator and this challenging role sees him creating exciting new BIOR partnerships (national and international), creating and managing the BIOR's sector leading technology and infrastructure, as well as working with his team to create a service offering that is 'best in class'. He also has the daunting task of ensuring the BIOR has all the required internal technology, as well as internal expertise in its teams to meet the BIOR's exacting operational mission, vision and values. He has the gift of being able to create something exciting, new and innovative from the ground up, a real 'can do' attitude with years of expertise and knowledge, and is a great motivator and leader.
Background

BA (Hons) International Business & Management, Dip Arch. An enthusiastic, professional CEO and technologist leading the multi-award winning ID Interactive group of companies from inception for the last 20 years.


Multi-award winning CEO

Winner | Red Herring Top 100 Business Winner Global 2009
Winner | Red Herring Technology Award for Innovation 2007 | EMEA
Winner | ABF Business Award 2007


Creating new technology building global partnerships

ID & Universal Music Group (UMG), the world's leading music company
ID & the world's largest mobile transaction network


BIOR Innovation

Azmat is currently working hard to develop the BIOR offering in to a world class service. He enjoys being part of, as well as leading, a successful and productive team. He is very quick to grasp new ideas and concepts, and to develop innovative and creative solutions to problems. He has a unique ability to work well on his own initiative, demonstrating the high levels of motivation required to meet the tightest of deadlines. Even under significant pressure, he possesses a strong ability to perform effectively and lead. Azmat led ID Interactive to win the Red Herring Global Technology Award in 2009 amongst others.

Non Executive Director - Knowsley Housing Trust Group (KHT), KHT Services
Azmat has been appointed as part of Knowsley Housing Trust Group's highly committed Board. Since 2002 KHT has invested over £300m into its homes and services and its trading arm, KHT Services, has an annual turnover of over £6m. The Board have a clear vision that is set out in our 5 year Corporate Plan focussing on communities, growth and excellence, and to help guide KHT to achieve its goals and move on to greater things.

Knowsley Housing Trust Group (KHT) are a progressive not for profit, independent Housing Association, based in Knowsley, a vibrant and dynamic urban area of Merseyside, managing over 13,000 high quality homes. It is the major social housing provider in an area of serious social deprivation, and aims to be a powerful force for improving life prospects for residents and their communities.

We are a Board that have a vision for excellence in what it does, my belief in excellence in service delivery, customer service and listening to residents is fundamental to business success.


Supporting Others

2010 | Department of Health (DOH) registered 'Dignity Champion'
Azmat is a registered Department of Health 'Dignity Champion', striving for the better treatment of the elderly, isolated and most vulnerable in our society. Azmat also supports the vulnerable in his capacity as an Official Prison Visitor (OPV) and member of the UK Prison Visitors Association.
Motivational speaker to children in schools and colleges
Supported the London Student Awards
Supported the Manchester Student Awards


Key Skills

Building Global Partnerships | Efficient Software Concepts | Board Level Manager | Operating early stage companies | Developing Working Plans | DOH Dignity Champion | Business Planning| Marketing | Project Management | Defining & Developing Revenue | Communications Skills |Budget planning | Building high performing teams | Public Speaking | Cost Management |Identifying new markets | Team Leading Business Efficiencies


BBC

Azmat is currently a regular on various BBC business and current affairs programmes.


Book
Azmat is currently writing his first book about business challenges and how much of business is skill and how much is luck.