Introduction
The British Institute of Recruiters is the Professional Body operating the Recruitment Certification Scheme.
All members are encouraged to be advocates of promoting best practice within the profession and must comply with the standards set out in this Code of Conduct.
Positive behaviours should govern the way members act both within and outside of the workplace. Acting professionally and ethically is the bare minimum requirement of anyone working within the sector.
The Institute will provide guidance and advice to all members to help them achieve and maintain certification with the Code.
This Code has been established as a means of regulating members' conduct to improve industry standards and is binding on all BIOR members, partners, and affiliates.
Where the Institute receives a complaint which shows that a member has breached any of the standards set out in the Code, that complaint will be investigated under the complaints procedure and may result in the matter being referred to the disciplinary body. Members must co-operate fully with the BIOR to allow any complaint to be fully investigated.
Click on the image below to download the Code of Professional & Ethical Conduct pdf.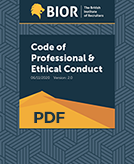 7 Fundamental Principles
The 7 Fundamental Principles frame the obligations placed on all members and are set out below:
Professional Behaviour
Uphold the Rule of Law
Integrity and Honesty
Objectivity
Equality, Inclusivity, Respect, and Fairness
Professional Competence and Due Care
Privacy, Confidentiality and Trust

1 Professional Behaviour
a. Members must conduct their business in a manner that enhances the operation, image, and reputation of the industry.
b. Members must put the needs of job seekers first ensuring they have prior agreements with works for any assignment or each CV submission.
c. Members must take care to ensure they exercise high standards of timeliness, appropriateness, and accuracy in the information and advice they provide during their business to work seekers and clients.
d. Members must keep work seekers and clients up to date regularly so as to ensure a high- quality service.
e. Members should not act in any way that would bring the industry into disrepute.
f. Maintain high standards of integrity in all advertising and marketing.
g. Supply work seekers with full details of the job and conditions of employment in accordance with the requirements of current legislation.
h. Determine the experience and qualifications of work seekers as appropriate to the clients' needs, or as may be required by law.
i. Endeavour to assign the best-qualified candidate to fill the position.
j. Keep work-seekers informed of the outcome of their application in a timely manner.
k. Obtain permission from the candidate before forwarding on a CV. (applies to agency recruiters only)
l. Fully disclose all fees and charges for services to the client prior to any work being undertaken.
m. Ensure that they fully document the recruitment process from the initial client brief through to the offer stage.
n. Members will ensure any job advertisements posted are accurate and up to date and reflect genuine vacancy details at the time of posting.
2 Uphold the Rule of Law
a. You must uphold the constitutional principle of the rule of law.
b. You must act lawfully and must not knowingly breach the law.
c. You must be familiar with and comply with the law as it applies to you.
d. Members must comply with all relevant legislation, statutory and non-statutory requirements, and official guidance.
e. Members must ensure they, and their staff, remain up to date with all relevant legislation applies to their business activities.
3 Integrity and Honesty
a. Members must act with the highest standards of integrity, honesty, diligence, and appropriate behaviour always in their business and professional dealings.
b. Members shall be 'straightforward and honest in all professional and business relationships practicing fair dealing and truthfulness.
c. Members will engage with stakeholders using compliant contracts and marked with any updates/variations, as necessary.
d. Members must ensure they can adequately fund all aspects of their operation including temporary worker pas as required in a timely manner.
4 Objectivity
a. Members must not allow bias, conflicts of interest or the undue influence of others to compromise their professional or business judgement.
5 Equality, Inclusivity, Respect, and Fairness
a. Members must ensure their company advocates zero tolerance of racism in respect of work seekers.
b. Members must identify actions that will work towards increasing the number of Black and ethnic minority work-seekers placed into positions at all levels.
c. Members must ensure their company has an Equality Policy and mandatory unconscious bias training for recruiters to ensure fair treatment of Black and ethnic minority work seekers.
d. Members must monitor the diversity of successfully placed work seekers and hold clients to account where diversity in hiring indicates bias against Black and ethnic minority work seekers.
e. Members must respect diversity and not unfairly discriminate against people.
f. Members must establish working practices that safeguard against any unlawful or unethical discrimination.
g. Members must make sure their views about a person's religion, race, gender reassignment, identity, sex and sexual orientation, age, disability, marital status, or any other protected characteristics, do not affect how you provide your professional services.
h. Members must treat all clients and work seekers with dignity and respect, and provide equal employment opportunities with complete fairness, based on qualifications and experience.
i. Members must take steps to prevent modern slavery in their business and their supply chains.
6 Professional Competence and Due Care
a. Members must ensure they have passed the BIOR Certification Assessment and implement these certification processes and procedures into their business operations.
b. Members have a continuing duty to maintain professional knowledge and skills at a level required to ensure that clients and work seekers receive a competent professional service.
c. Maintain and improve the quality of the service you provide by keeping your knowledge and skills up to date and relevant to your role and responsibilities, doing the same for your staff.
d. Undertake and keep up-to-date evidence of your continuing professional development and that of your staff.
e. Learn from appraisals and reviews of your performance and undertake further education and training if necessary.
f. Members will ensure they always conduct risk assessments and implement findings to keep workers and clients safe.
7 Privacy, Confidentiality and Trust
a. Respect the confidentiality of both clients and work seekers.
b. Never disclose confidential information without consent unless required to do so by the law.
c. Please read our Privacy Policy for further information.
The BIOR Recruitment Certification Scheme was created with kind input from all 3 of the UK's enforcement bodies responsible for state enforcement of employment rights:
The Employment Agency Standards Inspectorate (EAS)
Her Majesty's Revenue and Customs National Minimum and Living Wage enforcement team (HMRC NMW/NLW team)
The Gangmasters and Labour Abuse Authority (GLAA)
For Agencies
Get certified and gain a definite competitive advantage – Get Certified

For Individuals (Agency or In-House)
Get certified as a sector specialist recruiter – Get Certified


About the British Institute of Recruiters

The British Institute of Recruiters BIOR is the professional body for staffing & recruitment. BIOR is the highest standard mark in recruitment providing certification for agencies and individuals. To become a 'British Institute' the BIOR required approval of the Secretary of State which is only granted to an organisation that is pre-eminent in its field such as a professional body of the highest standing.